Taking on the tax-and-spend left
Now that the Kansas legislature has adjourned until May, I want to address some key issues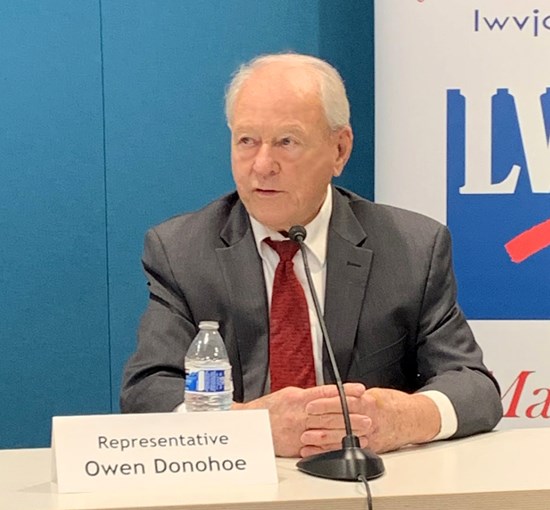 that happened in this session and the environment in which we are trying to create sensible laws.

I spoke recently at a legislative forum where the audience was packed with members of the education lobby who vehemently opposed any fiscally responsible measures in current legislation. They continue to pit school funding against every other priority of the state, without regard to the staggering burden on taxpayers they've already created and continue to demand.
The Democrats and Mods who support unsustainable funding for schools are unwilling to work across the aisle for school funding solutions that demonstrate accountability to the taxpayers of our state.

This session, I have voted in favor of the taxpayers, even when other Republicans differ. You'll see that in the highlights of the session below.

Another irresponsible school funding plan that holds taxpayers hostage - this one's impossible
SB 16 is Governor Kelly's answer to the never-ending cycle of school funding litigation. But it doesn't end it. The plan adds over $360 million to the K-12 budget on top of the $3.13 billion in new funding approved over the last two years. It also includes an inflationary measure that will increase K-12 funding between $50 and $100 million each year…forever.

This plan is unsustainable. It will cause these things to happen:
• Significantly raise income taxes on every Kansas taxpayer and corporation
• Keep Kansas food sales tax high -- it's already the highest in the nation
• More borrowing from the highway dept. -- indefinitely
• Delay or refuse to make KPERS payments for retired public employees
• Rob funding from nursing homes, corrections, mental health, foster care and other services for vulnerable citizens (even the trial lawyers representing the schools admit these other services will have to sacrifice because the funding will be going to the schools instead)

In caucus, I spoke about how the bill didn't change anything fundamentally. I urged my Republican colleagues to address teacher effectiveness standards in the bill. I believe the bill failed to establish policy for improved and accountable standards for teacher effectiveness and student achievement.

I voted no on this bill (the bill passed 63-61), breaking from "moderates" in my party, because I believe we must challenge the enormous demands of the education lobby and the Supreme Court, which will impose $2-3 BILLION more in tax increases in the near future.

The current school funding lawsuit is the result of prior legislatures making funding promises they knew they couldn't afford. Our state budget requires balance. Balance between the priority of public education and good stewardship to spend responsibly and fund all of the necessary services our government provides. When the balance between school funding and stewardship tips to the point that we are making unsustainable promises to schools and spending the state's $900 million in ending cash balances down to less than zero within the span of just two years, we are no longer in balance. That's why I'm opposed to this plan.

We await the Kansas Supreme Court decision, which is likely to demand this additional taxation and more.

Alternative health plan option approved
SB32 / HB 2209 CCR allows Kansas Farm Bureau to establish health care plans available to KFB members. It is not insurance but will provide an alternative healthcare coverage. The House vote was Yes 84 to No 39. I voted Yes.

This issue came up in the Shawnee forum and for weeks at the Capitol, and was met with extreme hostility as some far-left representatives claimed that the people would be defrauded and it would ruin the insurance industry in Kansas. But it won't -- it is an optional and limited-coverage health plan, available only to Farm Bureau members. It is simply an option that was requested by FB members.
The Farm Bureau has been in existence for approximately 100 years and is well respected in the marketplace. The Bureau has provided many benefits which have been extremely well received by its members.
Read more about it here, and why it makes sense to offer cost-saving options to member Kansans who purchase health plans.

No criticism of NEA for offering insurance to its members
Though opponents were criticizing the Farm Bureau health plan offering to members, there has been no criticism of another organization who has offered insurance to its members -- the National Education Association (NEA).

During my earlier campaigns I frequently discussed the fact that although teachers did not agree with the philosophical and moral tenets of the NEA, they joined in order to get the liability insurance because it was one of the few places they could purchase liability insurance. Granted, this was not health insurance; however, it was insurance they needed. To some extent this was a loss leader which encouraged teachers to join the NEA union. (More and more teachers are now leaving the NEA in favor of non-union, non-partisan professional association alternatives like the KS Assn. of American Educators.) Learn more about the NEA's onerous, partisan policies here.

The education lobby's exorbitant demand for unsustainable funding leaves taxpayers shortchanged. When taxpayers pay for high school education yet many graduates are taking remedial courses in college, taxpayers are not getting a good return on their investment.

College tuition is increased yearly exceeding the rate of inflation, although these institutions have millions of dollars in endowments and are leaving students $1.5 trillion in debt. Administrators continue to give themselves larger percentage increases which is puzzling unless you realize that underpaying teachers ensures their participation in the complaints toward conservative legislators.

Although schools in general have almost $1 billion in unencumbered funds that can be spent for teacher salary increases (which I support), we continue to raise taxes yet test scores continue to decline and the schools continue to demand more money. Although we as taxpayers are forced to pay more in taxes (and we in the state legislature are forced to spend more), we cannot get more accountability from the school districts. This will not change; thus we have to change. The education lobby got serious, hired lawyers and sued. We have to respond in like fashion. We have to recognize that the taxes we pay legitimize these actions, and exercise more control and restraint over excessive spending.
Check out my recent votes in the legislature
See a list of my votes on recent House final actions and bills referred by the Senate.