Teachers and students deserve better
I support public education and believe state spending on education needs to be efficient and accountable, just like every other area of Kansas government.
Right now, it's not. Currently, only 53 cents of every tax dollar that is sent to our schools goes to classrooms.* The rest gets swallowed up by administrators and other programs that don't directly benefit Kansas students.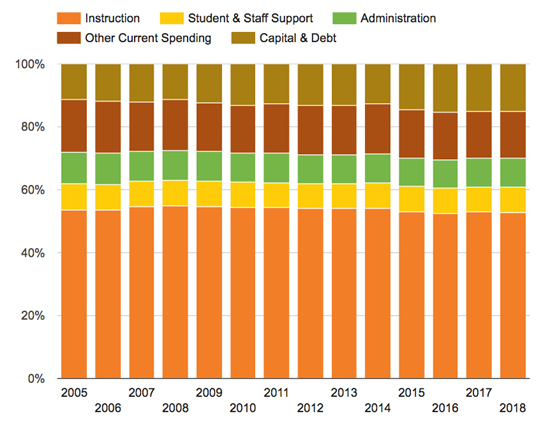 As your Representative, I will work to make sure more of your tax dollars actually go to the classroom to benefit teachers and students.
We'll improve our schools' effectiveness by getting a larger portion of spending dedicated to "Instruction," defined as direct interaction between students and teachers by the Department of Education. In the 2005 school year, local school boards allocated about 54 percent of all spending to Instruction; it declined to 53 percent by the 2017 school year.
With education taking 65% of the state budget – and huge increases in spending ordered by the court – we must demand accountability in education spending. I'll make sure more of those dollars are reaching the classroom to help teachers and students.
$2 Billion in Cash Reserves -- Why Isn't That Being Used?
Also, districts haven't spent the money they've been given by the Kansas legislature. There's $2 BILLION in unused funds in the KS Dept. of Education -- these cash reserves hit a new record in 2018. This money can be used by districts to meet teachers' needs.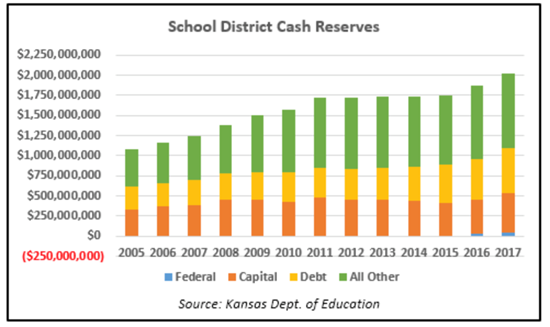 With a few exceptions, operating cash reserve increases are the result of school districts not spending all of the state and local tax aid they receive to operate schools. The 2017 school year saw 151 districts increase their operating reserves.
Despite this huge sum of available funds, the courts are still dictating more spending and tax increases. This is an untenable situation for taxpayers and the state government.
RELATED:

Voters want courts to stop dictating spending >


Learn more about the growth in state spending on education. >
Sources: Kansas Dept. of Education, KSOpenGov.com
"Other Current Spending" includes transportation, maintenance & operations and food service.