How to grow our economy without raising taxes
The Kansas economy is stagnant. We rank #47 in economic growth, #46 in people leaving the state, and #44 in K-12 college readiness.*
We need to grow the Kansas economy again. It can be done without raising taxes, without swiping funds from the highway fund, and without missing scheduled pension payments. In the process, we'll direct more school funds to the classroom for teachers and instruction.
We're facing billions in continued revenue shortfalls if legislators continue a tax-and-spend mentality. And the only solution the liberals (who controlled the Kansas house last term) have is to raise taxes – again. Enough is enough. You deserve better leadership.



How we can balance the budget without raising taxes.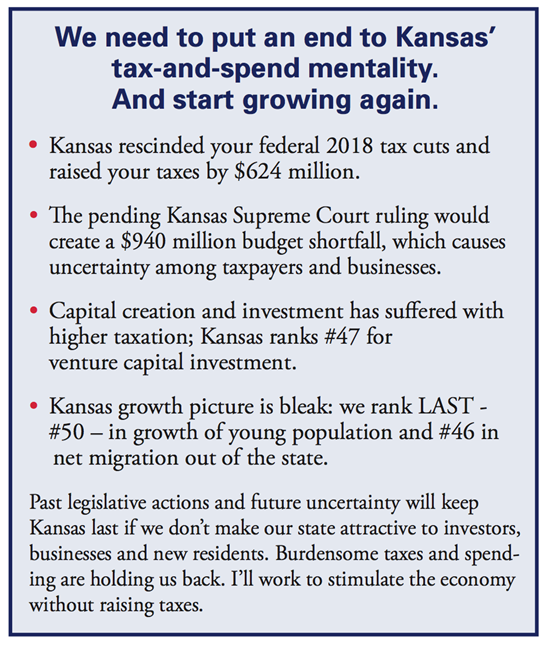 • Require school districts and universities to use some of their $2 billion-plus excess cash reserves.

• Roll back school funding increases, including the court's recent mandates.

• Reduce costs through performance-based budgeting system.

• Selling the right to collect future tobacco settlement funds.
It's time we made the government answer to the people for its performance. I will not let your legislature abdicate its responsibility to taxpayers, vulnerable citizens, families and businesses. I will lead with courage and transparency, as I always have.
* U.S. News & World Report, 2018 State Rankings Report
** Kansas Legislative Research Department
RELATED:

Addressing three big problems with school funding:
Getting more money to the classroom for teachers & students >

Putting $2 billion in UNUSED cash at Dept. of Education to good use >
Voters want courts to stop dictating spending >